The best wrinkle is the one you never get.
Botox, Xeomin and Dysport are FDA-approved treatments to help soften and smooth both fine lines and etched wrinkles on the face. Collectively, they are referred to as "neuromodulators."
Botox can be used as both a wrinkle treatment and for wrinkle prevention.
Many Tallahassee area women choose neuromodulator treatments as they start to notice lines on the face or lid heaviness causing them to look older, tired or even angry.
As we age, repetitive muscle movement causes lines to etch in the skin, creating both fine and deep wrinkles. By minimizing the muscle contraction, we're able to smooth the wrinkles and prevent further wrinkle formation. Neuromodulator treatment is used to restore smoother, refreshed looking skin that still looks natural.
Neuromodulator treatment is traditionally used for the upper face:
Forehead lines
"Crow's feet" around eyes
"11s" – wrinkles between eyebrows
'Bunny lines' on the nose
It can also be used for:
Brow lift
Lip Flip: To create a fuller lip without (or in addition to) lip fillers
Lip lines
Marionette lines/Lift the corners of the mouth (for smiles that have turned downwards with aging)
To correct "orange peel chin"
Necklace lines
Platysmal bands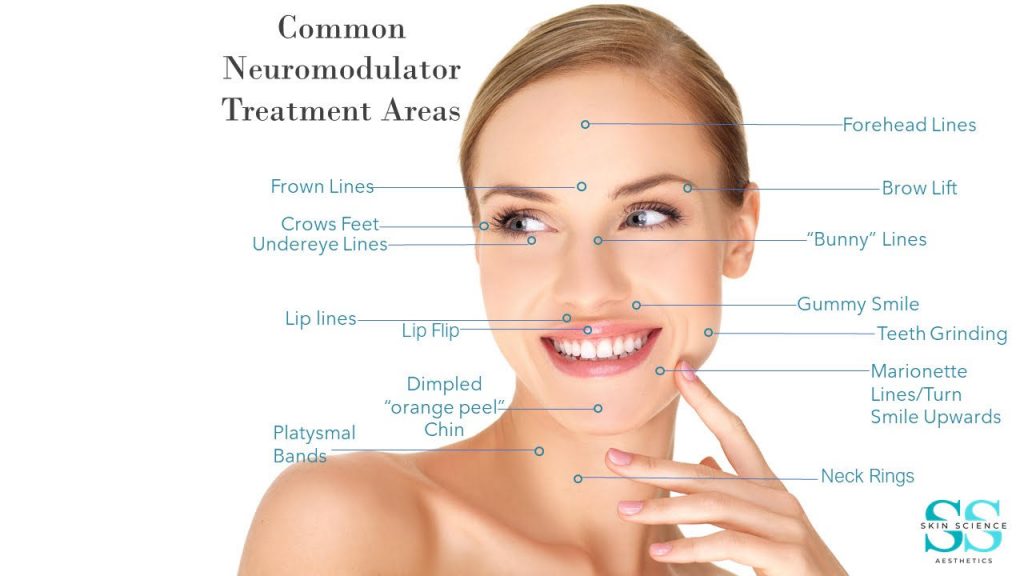 The Skin Science Difference
Our goal is to always create a natural, refreshed look. With that in mind, we don't believe in the "one-size fits all" approach to Botox. We want to decrease wrinkles, while allowing for natural movement and expression. To accomplish this, we carefully evaluate your individual facial features, facial muscle strength, wrinkle topography, and personal goals to smooth just your wrinkles, not your ability to express yourself.
FAQs
Do you still have questions? We would love to talk. If you want to book an appointment or if you'd like to speak to us about your options, questions, or concerns, reserve your free consult today.